To find the right jack for your bike, you need to read some of the best motorcycle jack reviews. By so doing, you will be better able to discern the differences between the various brands on the market.
| Image | Name | Editor's Rating | Price |
| --- | --- | --- | --- |
| | Black Widow MC-JACK Jack (Motorcycle) | | |
| | 1100 LB Wide Deck Motorcycle Center Scissor Lift Jack Hoist Stand Bikes ATVs | | |
| | Extreme Max Wide Motorcycle Scissor Jack - 1100 lb | | |
In the guide below, you'll find more information to help you in your search for the best motorcycle jack. Read on to learn more:
Best Motorcycle Jack Reviews:
That said, the following rank among the best motorbike jack on the market today. Get any of them, and you won't have to look for a replacement lift anytime soon:
1. Black Widow MC-JACK Jack (Motorcycle)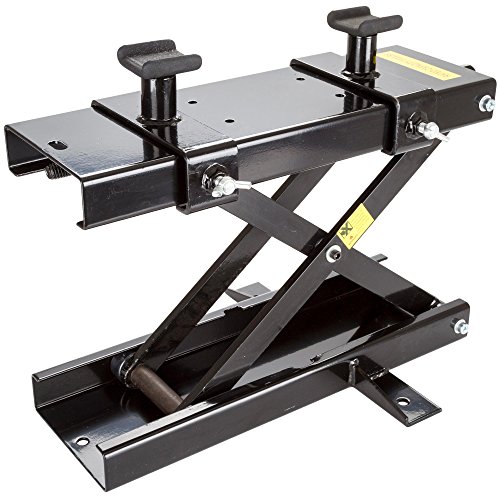 PROS
The Black Widow MC-JACK Jack is as compact as it is simply
It boasts a lift capacity of 1100 pounds
You can operate this jack with a wrench or a socket
It works perfectly for anyone who only needs to work on their motorbike
You can easily stow this jack away once the scissor jack is down
It comes with a minimalist look, with a design that will is sure to prove pleasing
The platform is properly rubber-padded
It boasts a steel construction
CONS
However, the Black Widow MC-JACK Jack doesn't come with lift lacks, meaning that you won't be able to move your bike once you lift it
Similarly, this jack is relatively expensively priced
2. 1100 LB Wide Deck Motorcycle Center Scissor Lift Jack Hoist Stand Bikes ATVs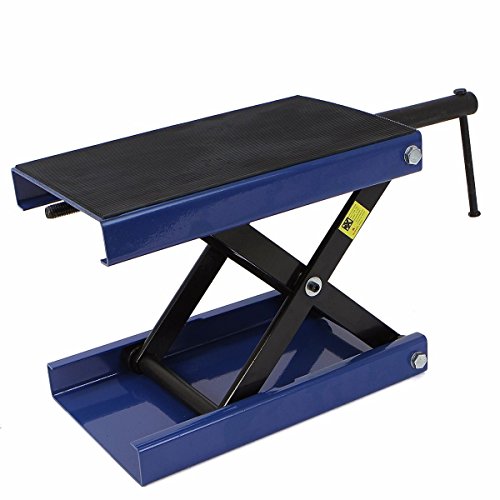 PROS
The Dragway Tools 1100 LB Motorcycle Scissor Lift Jack is 1100 lb wide
This jack is simple while also remaining reliable
It comes with a secure operational mechanism
It has rubber padding on top for additional stability
It can lift up to 13.25 inches, which should be more than enough
The jack is also quite durable
It weighs 30 pounds
CONS
However, for all these features, the Dragway Tools 1100 LB Motorcycle Scissor Lift Jack is quite pricey
3. Extreme Max Wide Motorcycle Scissor Jack – 1100 lb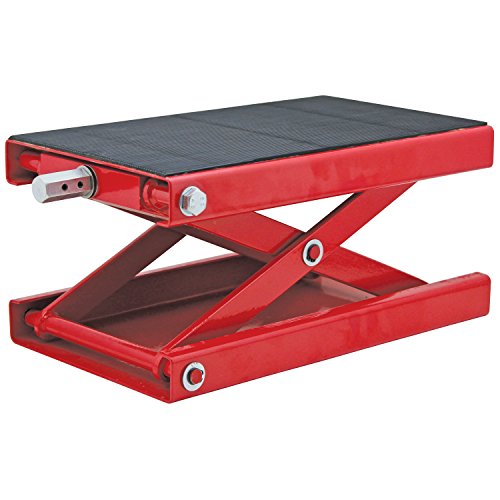 PROS
The Extreme Max Wide Jack comes with a center lift design
It works perfectly for most motorbike maintenance needs
Without the dolly, this jack can lift to a maximum reach of 13.5 inches
The platform has rubber padding to prevent your bike from scratching
This jack has a wrench/socket that can be used to operate it manually
It boasts a heavy duty steel frame
CONS
However, although this is one of the best motorcycle jacks, it is quite expensive
4. Zeny 1100 LB Motorcycle Center Scissor Lift Jack Hoist Stand Bikes ATVs (#01)
PROS
This jack boasts a capacity of 1500 pounds
The Zeny Motorcycle Center Scissor Lift Jack is multifunctional and can be used to lift ATVs, snowmobiles, and tractors
It also comes with a handle and two tie-down straps, as well as a user's manual and two adapter bars
It is also versatile enough to lift bikes
It has a 3-position locking mechanism
It boasts swivel casters that make it relatively easy to transport and move
CONS
Like all the best motorcycle jacks, the Zeny Motorcycle Center Scissor Lift Jack is pretty highly priced
5. XtremepowerUS 1100Lbs Motorcycle Scissor Center Jack Lift Repair Stand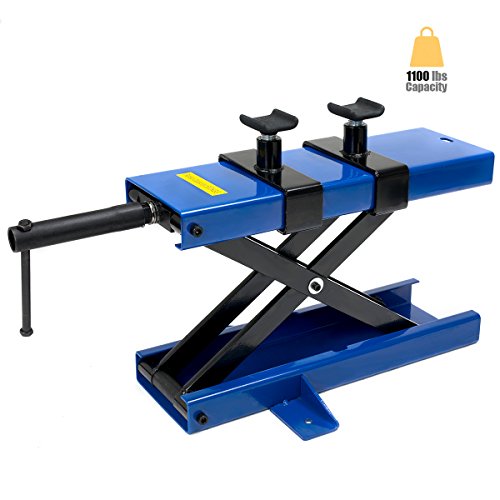 PROS
The XtremepowerUS Motorcycle Jack ranks among the cheapest options on this list
It performs extremely well, especially considering its low price
It can lift a maximum weight of 1100 lbs
It comes with such extras as two adapters and saddles, as well as 3-inch wings on both sides
With its blue color, this XtremepowerUS Motorcycle Jack should fit perfectly if you have a blue bike or garage
The stability and durability of this jack is relatively dependable
CONS
However, it is relatively small
The bolts have a tendency of loosening up
Why You Need The Best Motorcycle Jack
The one tool that you must have, to this end, in your garage is a motorcycle jack. With it, you will be able to lift up your bike and check it for any mechanical problems whenever you get a hunch that it isn't working quite as well as it should.
In this guide, we will help you find the best motorcycle jack for your bike. Further, you will understand why you need such a tool in your garage, how to choose one, and the features to look out for.
Motorcycle Jack Safety
That said, you should learn how to use your motorcycle jack correctly. There is a grave risk of injury if you don't pay to the small details. Therefore, you should always do the following to protect yourself:
Find out how much your bike weighs
Look for the best motorcycle jack that is rated to carry the load of your bike
Never overload your jack
Always use the right lifting points while raising your motorcycle
Ensure that your hands and feet are not close to the pinch points while using your jack
If the jack you own has safety locks, always use them
Understand the surroundings where you use your jack
Before you start working on your motorbike, ensure that it is stable while sitting on the jack
Buying The Best Motorcycle Jack
The weight of your motorbike
The weight capacity of the jack
If there is proper clearance to insert the jack under your bike
Whether you need a fixed or a movable jack
The weight of the jack
Whether you need the jack to be portable
The materials used to make the jack
How long you intend to use the jack for
The frequency with which you will use the jack
Whether you'll need to store it
Luckily, the best motorcycle jacks are not brand specific. This means that you can use them on any bike irrespective of the make. Further, jacks are hardly ever style-specific. To this end, you should be able to use one jack on different types and makes of motorbikes.
Any good motorcycle jack should even be able to work well with a Honda, BMW, Harley, Suzuki, or Yamaha among others. Further, you can use one jack irrespective of the type of bike you have: dirt, sports, or chopper
Features Of The Best Motorbike Jack
Proper hydraulic action
Foot pedal pump
Sturdy steel construction
Minimum weight capacity set at 1100lbs
Removable handle for when you need to store the jack
Safety locks to prevent stability issues
The best bike jacks will also come with manufacturer's warranty to provide you with the assurance that you are getting a high-quality product and that the manufacturer will deal with any arising issues.
Things To Look For In A Motorcycle Jack
1. Hydraulic Lifts
The first step would be to decide whether you need a hydraulic lift. Although these jacks tend to be priced higher, they are also much easier to work with. Further, they tend to come with higher maximum weight allowance. If you will be lifting your bike on the regular and don't want to always get on the ground, then you ought to invest in a hydraulic lift.
2. Minimum Height
If your motorcycle is relatively low, you need to get a jack that will get under there whenever you need to lift it up. To this end, the space between your bike and the floor will come into play as you go about shopping for the best motorcycle jack.
3. Padding/Saddles
The best motorcycle jack should have some saddles or rubber pudding on top. Most cheap lifts come without any padding – meaning that they are highly likely to ruin the bottom of your bike. Using such a lift also places your bike at risk of slipping right off and falling.
4. Construction
In the same way, you might want to check the material used to make your bike. If it is made of aluminum (instead of steel), then the best thing to do would be to pass it on. After all, it doesn't make sense to invest in a jack that keeps breaking down.
Final Verdict
So, there you have it – a guide to the best motorcycle jacks on the market today. All of these products are unique in one way or the other. However, they are similar in the sense that you will find them reliable, dependable, and durable over the long haul.
Among all of them, however, the Zeny 1100 LB Motorcycle Center Scissor Lift Jack Hoist Stand Bikes ATVs (#01) is our preferred option. Although it is relatively highly priced, this jack should work well for you. Ranked among the most popular of all lifts by most riders, this jack will serve as the perfect addition to your garage, workshop, or carport.
Over and above everything, we hope this guide will help you choose the right jack for your motorbike. With so many options touting themselves the best motorcycle jack, finding the perfect piece of equipment might be hard. However, the information above will make it easier for you to discern between what's good and what isn't. In the process, you will be able to make an informed decision the next time you go shopping for a jack for your motorbike.
If you liked this article, and would like to know more about other products, please leave us your feedback in the comment box below. Until next time, enjoy!