With the best motorcycle sunglasses, you should be able to protect your eyes from sunlight, dust, the wind, and any insects that would find their way in there. Apart from all these benefits, properly-fitting sunglasses will give you a more comfortable ride both at low cruises and high speeds. Read on to learn more:
| Image | Name | Editor's Rating | Price |
| --- | --- | --- | --- |
| | Motorcycle Riding Glasses from Get Lost (Tinted Lens) | | |
| | Global Vision Hercules Nylon Sunglasses (Black Frame/Smoke Lens) | | |
| | Set of (3) Stray Cats Motorcycle Glasses Sunglasses Smoked Clear Yellow New Double Sided Anti Fog Coating Foam Padded UV400 MSRP is $48.00 for the Set | | |
Best Motorcycle Sunglasses Reviews For 2019:
Below is a list of the top 5 best motorcycle sunglasses in the market today:
1. Motorcycle Riding Glasses from Get Lost (Tinted Lens)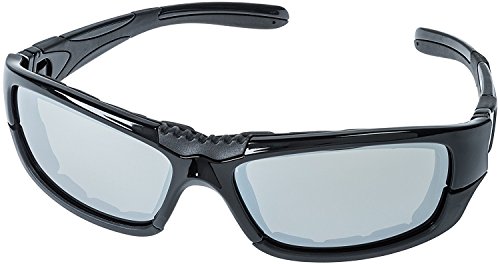 PROS
Get Lost Motorcycle Riding Glasses come with clear lenses
They are durable and should survive being sat on, dropped, and accidentally stepped on
They are a perfect fit
They come with adjustable straps and should fit anyone – from young kids to full adults
The edge is both slightly flexible and curved
The package comes with a small microfiber cloth you can use to clean these glasses
Other extras include a protective hard case and a microfiber pouch for storage
These are anti-fog lenses
You can swap them in for prescription lenses
They are scratch resistant
CONS
For all these features, the Get Lost Motorcycle Riding Glasses are quite pricey
2. Global Vision Hercules Nylon Sunglasses (Black Frame/Smoke Lens)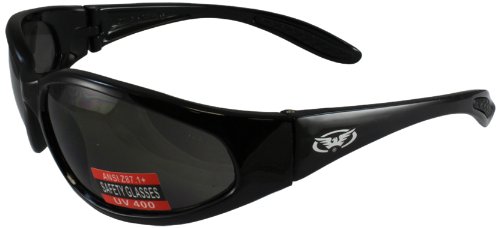 PROS
The Global Vision Hercules Nylon Sunglasses come with a black frame and smoke lenses
They are available in 3 colors: clear, smoke, and yellow
All varieties are uber-cool with black frames
They are made from polycarbonate
They are shatterproof and can absorb impact
They are equipped with UV400 protection, so your eyes will be safe
Although they are extremely tough, they are also durable and light
Quite affordably priced
CONS
The sides are a bit too thick
Not the best for wearing during foggy and rainy days/nights
3. Set of (3) Stray Cats Motorcycle Glasses Sunglasses Smoked Clear Yellow New Double Sided Anti Fog Coating Foam Padded UV400 MSRP is $48.00 for the Set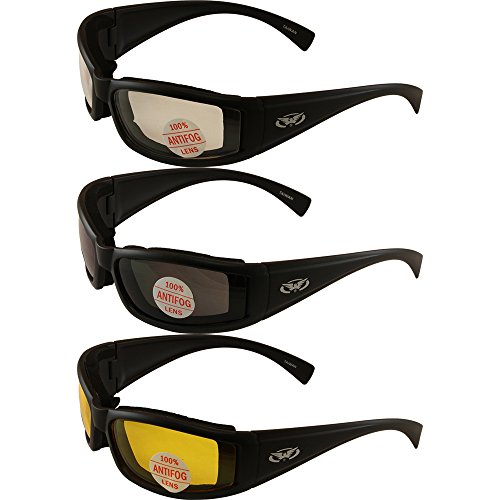 PROS
These Stray Cats Motorcycle Glasses Sunglasses are quite affordable
They come with UV400 lenses
The lenses are also made from light, durable, and tough polycarbonate material
These glasses won't scratch easily
They are equipped with rubber padding all around the lenses
They are comfortable to wear
The padding has vents that prevent the glasses from fogging
They can also be worn with contact lenses
Perfect for ATV riding
They work well with full-faced helmets
CONS
The frame feels a bit fragile
4. Global Vision Outfitter Motorcycle Glasses (Black Frame/Yellow-Smoke Lens)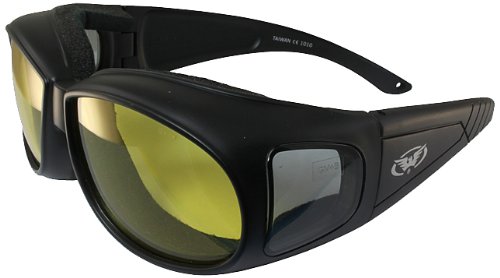 PROS
The Global Vision Outfitter Motorcycle Glasses are comfortable, functional, and look great
They come with shatterproof lenses and nylon frames
They are durable and meet ANSI-set safety standards
They have side lenses for perfect peripheral vision
The lenses have a clear smoke tint
They feature scratch-resistant coating
These glasses will fit over prescription glasses
They come with anti-fog capabilities
CONS
Although the Global Vision Outfitter Motorcycle Glasses boast enviable features, they are quite pricey
5. Motorcycle Polarized Sunglasses Foam Padded with Safety Polycarbonate Lenses. – Free Microfiber Cleaning Case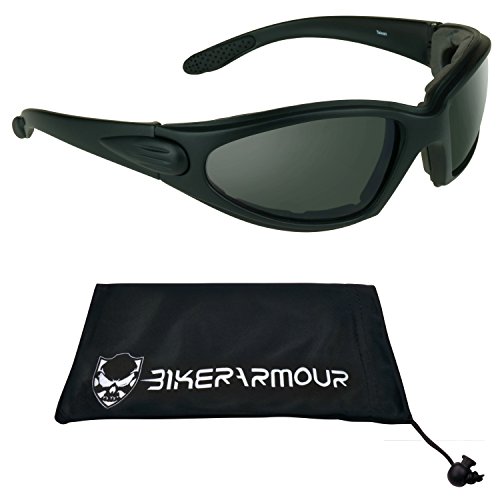 PROS
These smoked Motorcycle Polarized Sunglasses look perfectly stylish both for riding and for normal, everyday wear
They come with bifocal lenses
They are lightweight, durable, and flexible
The frame wraps around a semi-rimless frame
The nose pads and ear pieces have super grip rubber to ensure the glasses won't fall off easily
The polycarbonate lenses are impact-absorbent and scratch resistant
They are designed to eliminate glare
These glasses can be used in almost every lighting condition
They come with a free cleaning and carrying case
CONS
These Motorcycle Polarized Sunglasses will only work for riders with small to medium head sizes
They are more multi-purpose than they are for riding
Guide To Choosing Motorcycle Glasses
As an avid rider, you need to do more than just invest in a high-quality bike. You also need to get some basic riding accessories – such as helmets, boots, gloves, pants, jackets, and the best bike glasses the market has to offer.
If you have a full face helmet, of course, you won't need sunglasses. However, if your helmet is open-faced or short, then you certainly need to start shopping for glasses or riding goggles to protect your eyes.
Apart from making a fashion statement, the motorcycle sunglasses you choose will also keep you safe from anything that would harm your eyes and face. Depending on the make and model you pick, the cost of the best motorcycle sunglasses should not go below $10 or above $200 – unless you are willing to compromise on price. Another feature you must look for while shopping is the comfort and fit of the goggles.
Finding The Best Motorcycle Sunglasses
There are many features you should look out for as you search for the perfect riding glasses. These include, but are not limited to safety, comfort, fit, and style. You should also find a pair (or several) that won't disrupt your vision or lead you into an accident due to poor visibility.
With so many different types of bikes and riders, the market does have a wide variety for you to choose from. You can, for instance, pick between clear and tinted lenses, as well as between off-road and street goggles. The one constant among all of these options is that they should have foam lining, which is added to ensure the sunglasses last longer even with repeated use.
Other features to consider while out shopping for the perfect pair of bike sunglasses include:
1. Safety
Safety is, perhaps, the most important thing you need to think through. Every small feature on the sunglasses will count. You just need to ensure that everything works out perfectly to maximize your safety and security. That said, the motorcycle sunglasses are designed to protect your eyes from the elements sand, dust, wind, rain, sun, hail, and even bugs.
2. Polycarbonate Construction
Polycarbonate lenses are as light as they are flexible. They are, additionally, less susceptible to scratching particularly if you compare them to their glass counterparts. In the same way, polycarbonate comes with in-built UV protection to keep away the harmful rays of the sun and ensure they do not cause undue harm to your eyes.
Most of the best motorcycle sunglasses come with scratch-free polycarbonate lenses that are coated all over with advanced hardening material.
3. UV Protection
The UV rays emitted by the sun are harmful to human eyes. Therefore, as you shop for motorcycle sunglasses, you need to ensure that they come with UV protection. Remember, exposing your eyes to the sun's ultraviolet rays might cause such serious eye issues as cataracts.
4. ANSI Approved Glasses
Fourth, you might want to reach out for glasses that are ANSI-approved. These are the only types of motorcycle sunglasses that have undergone serious testing to ensure that they will protect the eyes of any regular rider.
5. Scratch Resistance
Although none of the lenses you will come across are completely scratch-proof, a couple of riding sunglasses are scratch resistant. Most of these come with a hard clear coat that will protect the glasses from the light nicks and scratches typical of ordinary polycarbonate or glass lenses.
That said, you can also protect your bike riding sunglasses simply by cleaning the lens with a clean microfiber cloth. Most of the best motorcycle sunglasses come inside a pouch that also doubles up as the cleaning cloth.
6. Polarization
Most of the top-dollar riding glasses come with Polaroid lenses, which are designed to cut out excess glare and light. The lenses contain crystal to stop scattered light from getting to your eyes.
7. Anti-fog Treatment
Some manufacturers have taken to adding anti-fog treatment by embedding a semi-transparent layer to ensure the glasses are fog-free. If you do get these types of riding glasses, consider investing in special anti-fog products to make the coating even more durable than it might be.
8. Color
Dark colored tints on sunglasses for cycling tend to absorb more light, especially when you compare them to light lens found on the best bike glasses. Therefore, you need to pay close attention to the lens before you making an actual purchasing decision.
Amber and orange tints, for instance, reduce blue light (one of the major contributors to glare). These glasses will also enhance detail, increase contrast, and brighten your visibility.
You can, however, reach out for brown sunglasses – which minimizing the strain on your eyes while you are out riding.
9. Comfort
To ensure you don't keep on buying new glasses on a regular basis, you might want to avoid those that have foam. Before you invest your money on glasses, you should understand all the features you need to get. Some of these features include how the sunglasses will fit over your prescription glasses (if you were some), ventilation, as well as snug fit.
Getting The Best Bike Glasses
There are so many different specs, colors, and formats out there in the market. Some of the factors to watch out for as you shop for the best motorcycle sunglasses include:
a) Lens Color
The most common lens colors of motorcycle sunglasses include red, yellow, some, and clear. If you are traveling at night, the best bet would be for you to choose clear lenses.
b) Cases/Pouches
If you wish to carry your riding glasses around on a regular basis, you need to find a pair that also comes with a hard cover case or a pouch.
c) Fit
Third, you might want to get glasses that will fit well over your prescription lenses. In the same way, you should check to see if the pair is adjustable and will go well with your particular head shape, size, and orientation.
With so many options in the market, finding the best motorcycle sunglasses can be something of a headache. However, as long as you know what to look for, the requirements you have, and the budget you are working with, it shouldn't be too hard for you to get the perfect pair of riding glasses.
Although this review contains 5 of the best bike glasses, our bet would be the Motorcycle Riding Glasses from Get Lost (Tinted Lens). Not only are they safe and durable, they are also stylish. Further, they boast a wide variety of features that you will soon come to appreciate with time.
Over and above everything else, you should spend some time researching the different options in the market before you make a final buying decision. This way, you will end up with the best motorcycle sunglasses for your particular needs, preferences, and working budget.