So you're looking to start riding and want an entry level sports bike.  Well then the Ninja 300 or the CBR300R are pretty much the choices available to you at the moment (at least until the Yamaha R3 and KTM RC390 hit the showrooms). But which one is better? Are both the Ninja 300 and CBR300R pretty much the same thing except for the badges? Is one more suitable than the other depending on what your expectations are? Are you only interested in performance or are do you want a bike that's comfortable and good for city traffic? Let the Ninja 300 vs Honda CBR300R battle begin. What the Ninja definitely has in its favor is history. The little sports bike was first released in 1986 and had virtually no competition in the market until Honda came in with their CBR250R in 2011. In response, Kawasaki increased the capacity of the Ninja to just under 300cc with Honda responding in kind this year (though the CBR300R is actually only 286 cc).  And while both bikes are squarely aimed at the beginner market, they do take a different philosophy and approach as to how to achieve their desired aim. Of the two, the Ninja 300 is definitely the sportier of the two. In fact, when it comes to performance the Ninja 300 is more closely in competition with Honda's other entry level bike, the CBR500R. Its straight twin engine puts out 38.89 hp (29 kw) @ 11,000 rpm and 19.91 lb ft (27 nm) @10,000 rpm.
Kawasaki Ninja 300 vs Honda CBR300R
Ninja 300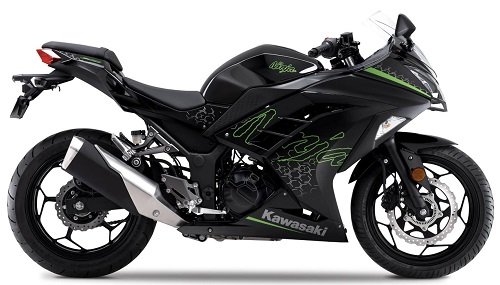 Acceleration 0 to 60mph: 
5.60 seconds
Acceleration Quarter Mile:
 14.50 seconds @ 90.58 mph
Top Speed:
 112 mph Despite its recent upgrade, the Honda CBR300R is still down on power and torque compared to the Kawasaki. It's single cylinder engine outputs 30.50 hp (22.7 kw) @ 8,500 rpm and 20 lb ft (27 n) @ 7,500 rpm.  That's a power deficit of around 22 percent and it shows in the figures below:
CBR300R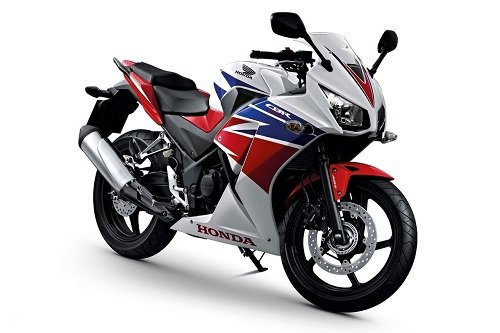 Acceleration 0 to 60mph:
7.80 seconds
Acceleration Quarter Mile:
Not available
Top Speed: 
100 mph
Bike Weight
As far as weight goes, the CBR300R is 364 lb (165 kg) with all fluids compared to the Ninja 300 which weighs 383 lb (174 kg) wet.  And this is one of the CBR300R's greatest strengths.  That lightness translates into a much better bike to ride when it comes to city traffic. If you live in a place where lane splitting and filtering is allowed (or you do it anyway), the CBR is much easier to weave through cars on. And its weight isn't the only reason for that.
Bike Efficiency
The Honda CBR300R's ergonomics are much better suited to the suburban landscape. The Ninja 300 is designed as a beginner sports bike that is much more at home on the track or in the mountains, whereas Honda has designed the CBR300R as more of an all-rounder. It's a relaxed bike to be on, and while the seat height of 30.7 inches is only slightly lower than that of the Ninja (30.9 inch), legroom is much more expansive with lower pegs.
Power Delivery
Power delivery down low is also smoother on the CBR300R and more readily available. While the Ninja is more at home at higher RPM, the CBR gives you almost full power just north of 6,000 rpm.  Fueling on both bikes is good, though I'd give a slight edge to the CBR. Once you get out into the open road, the Ninja claws its way back and definitely outperforms the Honda.  That extra power and top end make a huge difference on the freeway.  The little single of the CBR starts to strain once you go north of about 120 kph, whereas the Ninja keeps on accelerating. The same can be said when you're going for a spirited ride in the twisties. You really notice the power difference in both bikes. Where the Ninja will quite happily head up inclines with only a single downshift, you have to hammer through the box on the CBR300R to get it motivated.
Bike Handling
And the Ninja is definitely the better handling of the two when it comes to riding closer to the limit. Directional changes are swift and you just feel more confident on the Ninja 300. That's not to say the CBR300R handles poorly at speed, it's just that its all-rounder composition starts to show. You're more comfortable on the CBR, just not as quick in a corner. Having a slipper clutch is also a great benefit and is unheard of in an entry level bike. Brakes on both are good and come with ABS as an option (which should be standard on a beginner bike) but I would marginally give braking performance honors to the Honda just due to their better feedback – something you want whether you're a novice or a pro. From reading all of this, you've probably come to the conclusion that the Ninja 300 is the faster and more sports orientated bike, while the Honda CBR300R is a better everyday bike. And that's correct. And it's because of that I would choose the Ninja 300 over the CBR300R. Why? Because this is a comparison of two entry-level sports bikes and to me it's clear as day that the Ninja 300 is superior to a sports bike. If you're after an all-round beginner bike then the CBR300R is fine – great even. But while it may look like a sports bike, it's a term I think that loosely applies. And trust me, when you're stuck on a learner approved bike for a year or more, you'll want all the performance you can get.
Kawasaki Ninja 300 vs Honda CBR300R
:
Compered
| | Honda CBR300R | Kawasaki Ninja 300 |
| --- | --- | --- |
| Engine | | |
| Engine Type | 286cc 4 stroke, single-cylinder | 296cc 4 stroke, parallel twin |
| Bore And Stroke | 76mm x 63mm | 62mm x 49 mm |
| Induction | PGM-Fi, 38mm throttle body | 32 mm x 2 keihin with dual throttle valve |
| Compression Ratio | 10.7:1 | 10.6:1 |
| Valve Train | DOHC; four valves per cylinder | DOHC, 8 valves |
| Horsepower | 30.50 hp @ 8,500 rpm | 38.89 hp @ 11,000 rpm |
| Torque | 20 lb ft @ 7,500 rpm | 19.91 lb ft @ 10,000 rpm |
| Drive Train | | |
| Transmission | Six-speed | Six-speed |
| Chassis / Suspension / Brakes | | |
| Front Suspension | 37mm fork; 4.65 inches travel | 37 mm telescopic fork |
| Rear Suspension | Pro-Link single shock with five positions of spring preload adjustability; 4.07 inches travel | Uni Trak with gas charged shock and 5-way preload |
| Front Brake | Single 296mm disc | Type Single 290 mm petal disc |
| Rear Brake | Single 220mm disc | Type Single 220 mm petal disc |
| Front Tire | 110/70-17 radial | 110/70-17 M/C 54S |
| Rear Tire | 140/70-17 radial | 140/70-17 M/C 66S |
| Dimensions | | |
| Rake | 25.30 degrees | 27 degrees |
| Trail | 98mm (3.9 inches) | 93mm |
| Wheelbase | 54.3 inches | 55.31 inches |
| Seat Height | 30.7 inches | 30.9 inches |
| Wet Weight | 364 pounds. | 383 lb |
| Fuel Capacity | 3.4 gallons | 4.5 gallons |