If you are shopping for the best motorcycle speakers but you are not sure about what to get, then you are in the right place. With motorbike speakers, as with any other accessory, making the correct choice will greatly contribute to your overall riding experience. Use this guide to find the right speakers for your bike:
Reviews Of The Best Motorcycle Speakers:
That said, consider the following best motorcycle speakers:
1. BOSS AUDIO MRWT40 Marine 4″ 2-way 400-watt Waketower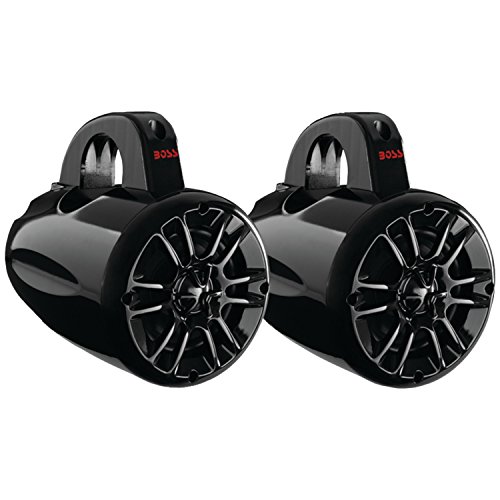 Pros
The BOSS AUDIO MRWT40 Marine Waketower was built for superior performance even in the toughest of conditions
It has polypropylene cones that make it impervious to moisture and wetness
Further, the speakers have a protective coating to block out UV rays, thereby maintaining the integrity of the material and ensuring the speakers always look new
Compactly designed, the BOSS AUDIO MRWT40 Marine Waketower will fit perfectly such as on your roll bar or wakeboard tower
They are priced and sold as a pair
Bought new, these speakers come with 1 year warranty from the manufacturer
The quick-fit terminal design makes for easy installation
Cons
However, the BOSS AUDIO MRWT40 Marine Waketower are quite highly priced
2. Pyle PLMCS94 800 Watts Motorcycle/ATV/Snowmobile Mount with Dual Handle-bar Mount Aluminum Die-Cast Weatherproof 3-Inch Speakers – Set of 2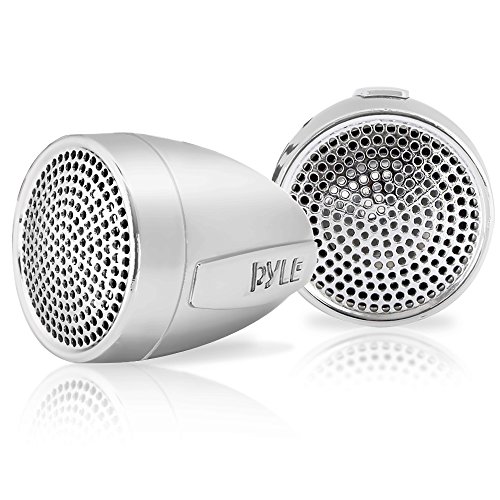 Pros
Sold in sets of two, the Pyle PLMCS94 Weatherproof Speakers are quite affordable
They are also available in chrome
These speakers will fit perfectly on most handlebars measuring 1 to 1 and ¼ inches
The package comes with mounting brackets
The mini-amplifier works perfectly for scooters, boats, and snowmobiles too
The Pyle PLMCS94 Weatherproof Speakers also features a remote control for switching one and off
It supports iPods, MP3, MD, and CD
These speakers are easy to install
They provide high-quality sounds
These speakers are waterproof
Additional features include mute function, volume control, power switch, and indicator
Cons
However, the amplifier on the Pyle PLMCS94 Weatherproof Speakers isn't waterproof
3. BOSS AUDIO MC470B Chrome 1000 watt Motorcycle/ATV Sound System with Bluetooth Audio Streaming, Two Pairs of 3 Inch Weather Proof Speakers, Aux Input and Volume Control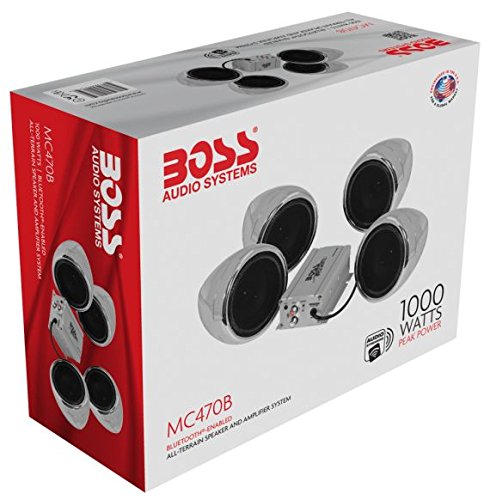 Pros
The BOSS AUDIO MC470B Weather Proof Speakers are relatively inexpensive while simultaneously packing tons of great features
This set supports advanced audio distribution
It comes with Bluetooth connectivity (while in close range)
The set is water resistant (without being completely waterproof)
The manufacturer has provided 3-year platinum warranty
For smooth sounds and great rides, the Boss Audio MC420B is hard to beat
These speakers will fit perfectly on your bike's handlebar
It produces clear and loud sounds
Cons
The only problem with the BOSS AUDIO MC470B Weather Proof Speakers is that it isn't 100% waterproof, meaning you'll need to be careful while using them in wet conditions
4. BOSS AUDIO MC420B Chrome 600 watt Motorcycle/ATV Sound System with Bluetooth Audio Streaming, One Pair of 3 inch Weather Proof Speakers, Aux Input and Volume Control
Pros
The BOSS AUDIO MC420B Speakers are completely waterproof and water resistance
They come in black and chrome options
Inaccuracy in the reproduction of sound by these speakers is lower than 0.01%
The speakers boast wired remote volume control
They are designed to fit perfectly on most handlebars measuring 1 to 1 and ¼ inches
The package comes with mounting brackets
These speakers also have Bluetooth support
It comes with the standard audio jack measuring 3.5mm
The Manufacturer provides 3-year warranty
The outer components on these speakers have protection coating, making them weather safe (such as the amplifier)
Basic features on these motorcycle speakers include 3inch chrome speakers, RCA and 5mm aux input, waterproof volume control, high impact and high-temperature closures on the 2 channel amplifier, and adjusters made of stainless steel
The volume control is also water resistant
The stainless steel brackets are easy to install and can be adjusted to different angles
The amplifier wattage of 600 means that the BOSS AUDIO MC420B Speakers rank among the best motorcycle speakers for use in all noisy conditions
These speakers will work well over the long haul without heating up
Cons
For all these features, it isn't too surprising that the BOSS AUDIO MC420B Speakers are quite expensively priced
5. 
GoldenHawk USA 3″ Motorcycle Waterproof Bluetooth Wireless Speaker 7/8-1 in. Handlebar Mount MP3 Music Player Sound Audio Stereo Amplifier System ATV UTV w/3.5mm AUX IN, USB 2.0, micro SD, FM Radio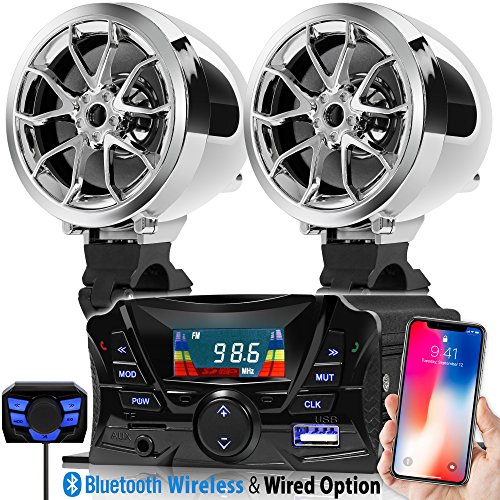 Pros
The

GoldenHawk USA 3″ Motorcycle Waterproof Bluetooth Wireless Speaker 7/8-1 in.

boast a stylish design, complete with mirror brackets (for easy installation)
Marine grade, these speakers are 100 percent waterproof, meaning that they should work even inside a swimming pool
The channel speakers have been set at 300 watts, which is why they produce high-quality sound even at the highest of speeds
Further, the amplifier has an RCS connection (of black chrome) that is pleasant to look at
Additional features on these speakers include wireless remote control, aux input, and an FM frequent display
The high working voltage, as well as amplifying power, means that you should be able to use these speakers for clearer, louder music
The Shark Motorcycle Bluetooth Speakers are SD enabled and have USB ports, which are ideal if you wish to listen to listen to music from a flash disk or memory card
The LCD screen on these speakers is easy to read
The speakers also have easy-to-install mirror brackets
Cons
Not unlike other high-quality speakers, the price of the Shark Motorcycle Bluetooth Speakers is rather high for some riders
Why Buy Motorcycle Speakers?
So, why should you invest in the best motorcycle speakers in the first place? What benefits are you likely to gain by so doing? Consider the following:
For starters, buying the best motorcycle speakers means that you will be less prone to getting involved in accidents. After bike speakers were introduced, it was deemed unlikely that riders would be in as much danger as when the only option were ear buds and earphones – which make one deaf to the sounds in one's surroundings.
Further, when you wear ear buds in such states as California and New York, you will be slapped with a traffic ticket.
Motorbike speakers will also protect you from damaging your hearing. Listening to music through earphones and ear buds is likely to impact your hearing negatively. This risk is reduced for riders who only have motorcycle speakers.
Factors To Consider While Shopping For Motorbike Speakers
There are some factors you need to consider while shopping for the best motorcycle speakers. These factors include:
1. Speaker Type
Some of the options open to you include handlebar speakers, Bluetooth speakers, and helmet speakers. The choice you make should be totally up to you – meaning that you should pick something that is in keeping with your personal preferences. That said, most riders tend to have a good experience with handlebars speakers.
2. Wattage
Wattage is used as a measure of the volume of speakers. As such, it is an important feature to consider while shopping for the right motorbike speakers. After all, the higher the wattage, the better the general performance of the device over the long haul.
However, if most of your rides are around your local town – and the town is not quite as noisy – then the best option might be to get speakers with lower wattage. High wattage options are generally better for riders who frequently cruise on highways and in open spaces.
3. Input Sources
You should also consider the methods available for connecting your bike speakers to a music device. Some speakers, to this end, come with head units installed as the primary input source. These speakers will allow you to fill the SD card in the head unit with your favorite playlists and songs.
Others can connect to portable devices such as phones, MP3 players, and iPods.
4. Additional Features
Where possible, look for speakers that come with some extra features. It is these features that will make for smoother rides and better experiences while out on the road. Some features to watch for include Bluetooth options, docking stations, and thumb control.
Thumb control means that you won't get distracted while you are on your bike. A docking station will hold the source of the music (iPod, phone, and the like) while they charge so that you are not out of battery power. The Bluetooth option, on the other hand, will save you from the extra wiring needed to connect the speakers and the device.
5. Water Resistance
Motorbike speakers should be water resistant. As a rider, you probably understand that the lifestyle you chose means that you will encounter rain, moisture, and general exposure to the elements.
As such, when you shop for the best motorcycle speakers, you should ensure that the choice you make will be able to resist all these elements – particular any wet condition that might spoil them.
6. Speaker Size
The speakers you choose should be of the right size. The thickness, for instance, should perfectly fit on your helmet or on the handles on your motorcycle. Interestingly, the diameter of the speakers will also affect the frequency and the overall sound quality from the device.
7. Sound Quality
Last but not least, only choose those speakers that will provide a sound quality that will be good enough to make the investment worth it. It doesn't make sense to splash a bit of money on speakers that you will not be happy to switch on and listen to.
Final Verdict
Over and above everything else, finding the best motorcycle speakers should not be difficult. As long as you know what to look for, you are aware of the different features on different models, and you have encounter bike speaker before, then making your choice should come as naturally as possible.
The speakers reviewed above made it to this list because they are a cut above the rest in terms of quality, additional features, looks, functionality, and durability. In particular, all of these options come with sound quality and amplifying power that will improve your overall riding experience.
For us, however, we would highly recommend the BOSS AUDIO MC470B Chrome 1000 watt Motorcycle/ATV Sound System with Bluetooth Audio Streaming, Two Pairs of 3 Inch Weather Proof Speakers, Aux Input and Volume Control. These speakers have the best balance of build quality, pricing, and features. As such, you should have a great time with the MC470 than you would with all of the other options.