Asking yourself the "how much to powder coat rims?" question? Then you are in good company. In this guide, you will learn about everything there is to know about how to paint motorcycle rims, the costs involved, and what you need to get the job done.
Primarily, powder coating rims comes with many benefits. Apart from protecting them against corrosion, this process will make your wheel look unique. Therefore, whether you wish to correct the wear and tear on your once-shiny rim chrome finish, or you only need to make the rims look more in vogue, this guide will help you estimate how much to powder coat rims costs. Read on to learn more:
How Much It Costs To Powder Coat Rims

While looking for answers to the how much to powder coat rims question, you need to understand that everything will depend on the depth and size of your rims. It will also depend on whether you intend to take the project on or you wish to hire someone to do it for you.
That said, paying for powder coat rims will cost you anywhere between $250 and $550 to get a base coat. This pricing will, however, only cover sizes ranging from 13 to 26 inches and such styles as racing wheels, knock-off wheels, and standard wheels.
On the other hand, if you are looking for a base coat with a transparent or candy finish, the powder coating company will charge you an additional fee of between $125 and $260. Similarly, if you ask for a clear coat to be applied on top, be ready to part with anything between $125 and $260.
Of course, you can also mail your rims to get them coated. In such a case, you should set aside some money to cater to the shipping charges – both for taking the rims to the powder coating company and getting them back home.
The other alternative would be to powder coat the rims on your own. In such a case, the costs will significantly vary depending on the equipment and tools you already own and those you will have to buy.
Starting from scratch will set you back anywhere between $300 and $5,000 depending on whether you need basic supplies and tools or you wish to outfit yourself with the entire professional toolset required to get the job done to completion. In the following sections, you will find a breakdown of these costs:
1. Powder Coat Rims With A Local Company
The following websites will help you track and find local businesses that powder coat rims in your area. Use them to compare quotes (for free) as well as decide whether using a local company is cheaper than going the mail-in route.
In case you don't find the results you need on these websites, you should perform a quick search on Google. Use such keywords as "how much to powder coat rims" and "powder coat rims near me," and you'll get a couple of results to help you locate a company that will handle the project on your behalf.
2. Powder Coating Via Mail-In
You also have the option of shipping the wheels to a powder coating company located in another part of the company. The firm you choose will abrasive blast, degrease, prepare, and powder coat the rims before sending them to you.
In case you have aluminum rims, and they were initially chrome plated until they lost their shine, you will first have to get a chrome plate so that the nickel and chrome are removed chemically. This is because blasting the chrome off could potentially damage the entire wheel.
In the same way, you need to ensure that the entire rim gets coated and not just the wheel spokes. That said, before shipping the rims, ensure that you get them padded using triple bubble wrap. This way, you will make sure that they do not get damaged while in shipment.
So, how much to powder coat rims via mail-in? Use the following services to help you make the right decision with regards to the cost of mail ordering a powder coating service:
Bonehead Performance
Graub Design and Fabrication
Streetwerkz
As mentioned above, you will take care of the shipping costs for the service. Further, most companies require a minimum order of between $35 and $50 although this target shouldn't be difficult to hit considering that the cheapest option for the standard motorcycle wheel rim is $65.
3. Powder Coating Your Own Rims
If you know how to paint motorcycle rims and you have all the right tools and equipment, there is no reason why you shouldn't attempt the project on your own. In fact, many people have managed to set up their own workshops where they powder coat rims for themselves and their friends.
Taking on the project as a DIY task will save you the need or the expense of having to get another person to powder coat rims on your behalf. Of course, there are still costs that you need to consider even as you attempt to work on the rims on your own.
To better understand how much to powder coat rims on your own, consider the following:
The powder you will use
How much of the powder you will need
How much the tools and supplies will cost
The price of an appropriately-sized oven
How often you intend on powder coating other items for your bike
After you have all the supplies and tools required to professionally powder coat rims on your own, you should consider watching a couple of video tutorials to learn how to paint motorcycle rims at home.
So, how much to powder coat rims by yourself? Consider using the MIT Powder Coating Calculator. It will help you understand all the costs involved in handling such projects as DIY tasks.
Similarly, consider using the videos in the links below for handy tutorials to help you powder coat rims at home without makin
Best DIY Powder Coating Tools And Supplies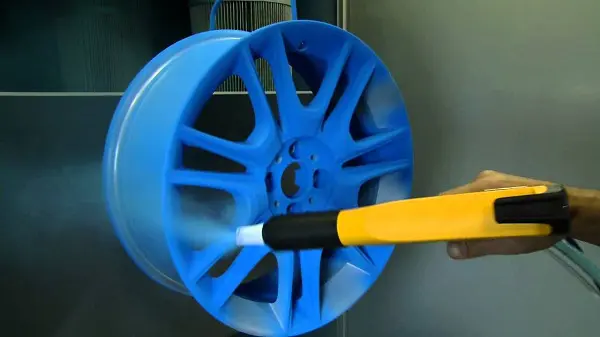 Although you have the option of powder coating rims with a Harbor Freight or Craftsman gun, Eastwood guns rank among the best in terms of value for money for beginners.
Alternatively, get the low-voltage Eastwood kit from Amazon to make the project a bit easier for you.
Additional Supplies
The other supplies you will need to powder coat rims include:
Colors
Curing oven or buy your own oven
Final Verdict
Overall, finding answers to the how much to powder coat rims will prove useful in the long run. Apart from helping you decide on whether to do it locally, via mail order, or as a DIY project, these answers will empower you to anticipate your future powder coating needs.
Hopefully, the guide above has provided you with the right answers to enable you to make the right decision. To find out more about this topic, please leave a comment below, and we'll send back a reply shortly.