Choosing the best dual sport tires is a daunting task. You could be reading a whole book about this topic…  but the fact is, there are myriad options. Brands, riding styles, price, solo or double, terrain and off-road vs. on-road preferences, and so on put a lot of pressure.
If you are an avid motorist and your vehicle of choice is a powerful two-wheeler that you are confident enough to take on a journey across the world (or maybe just around your neighborhood), you will need to arm yourself with a couple of things:
A GPS, so you know where you're going,
A spirit of adventure,
Proper apparel for riding in challenging conditions, and
A rough 'n' ready set of tires.
Now, in case you want to ride your trusty bike on AND off the road, the best option for you would be to go for a dual-sport set of tires. As their name suggests, these rugged tires can be used both on asphalt and on demanding mountain tracks, as well as on muddy roads and other rough terrains.
In this article, we'll talk about the best dual sport motorcycle tires currently available.
Top Picks : 3 Best Dual Sport Tires
Title
Kenda K270 Dual Sport Trail Tire
10 Best Dual Sport Tires Brands & Models for 2023 Reviews:
1. Dunlop American Dual Sport Tires
The DUNLOP D606 Rear Tire is our top recommendation for the best dual sport tire if you want aggressive off-road riding, good highway grip, and durability. Dunlop is known as one of the great tire brands in motorsports due to its heritage on the track.
Choose Any of the Dunlop dual sports tires if you do tackle serious off-road terrain. All of the models of these brands inspire high user levels of confidence when leaned into a turn aggressively. With a progressive steering response, you will feel confident on any hill and the highway.
Its tread pattern design enables rigorous off-road use and good traction on everything from hard-packed fire roads to soft single-track trails. This tread pattern also features comprehensive, stable central blocks and large grooves which help in water drainage and minor grooves which aid in optimal tire wear.
As a rider, you usually ride on the center portion of the tire, which tends to wear pretty quickly. But the good news is, this dual-sport tire comes with multi-tread, making the center part wear-resistant. Well, that doesn't mean the tire will never wear; it will take years even when you ride every day.
We will now discuss how this tire performs in wet conditions. Tires with this tread pattern perform exceptionally well in wet conditions. They have tested the tire several times in wet conditions, and it passed. In terms of appearance, it is desirable. We love the Dunlop up front as dual sports tires, but most of their tires can also be used as street tires.
Here is some more information about Dunlop Dual Sports Tires.
Highlighted Features
D.O.T approved

Superior performance in wet and dry conditions
It offers a great grip so that you can handle the bike better
Constructed to last longer
The tires look very classy
Optimized construction to enhance

traction and

handling
Versatile Dual Sport performance of a value oriented price
Read more about: Best Motorcycle Boots
2. Kenda Dual Sport Tire
Kenda is another famous motorcycle street tires brand that rivals the performance of the most popular models on the market. Among them,  Kenda K270 is probably the smartest street legal wearing tires on the pavement. They perform great on dirt trails as well as off road.
Low prices and good performance make it a top-rated product. Usually, when you get something good, you have to spend a lot of money, but not with this tire. If you are looking for a good sport tire that delivers good performance and lasts for a long time, this Kenda Cruiser motorcycle will not let you down. Cooper Tire is a USA-based tire company that has become a staple on the continent.
The majority of the tire is tubeless and is constructed with six plies. As anyone who has changed a tire before will know, this tire is easy to install. But you know what the best part is? This tire is suitable for cruisers, touring vehicles, and sports vehicles. It performs well. It offers a remarkable level of stability. The tire makes handling the bike a breeze.
You will enjoy this tire if you like speedy rides (Over speeding on the bike could put your life and the lives of your loved ones at risk, so ride within limits). With deep tread sipes and a tread pattern that performs exceptionally well in wet weather conditions, this tire tread is engineered well.
Highlighted Features
It comes at a very low price, which makes it affordable for most riders.
Aggressive knobs increase dirt performance
Tubeless tire and super easy to mount.
Tire tread pattern makes them perform great in wet conditions.
It offers greater traction so that you can handle the motorcycle better.
Constructed with 6-ply, and will little care, it will last for ages.
Good traction &

grip
3.
Shinko Dual Sport Tire
No products found.
Shinko has become a famous motorcycle tire brand in the last several years – by designing solidly performing models at extremely affordable prices. They may not represent the pinnacle of tire performance – that spot is reserved for exclusive brands like Pirelli, Dunlop, Michelin, and Bridgestone – but when it comes to impressive performance that delivers outstanding value, Shinko is tough to beat!
Our research found that Shinko radial 705 is the popular front tire for wet and dry weather adhesion and smooth running on the highway.
Their tires are excellent for carrying heavy loads over long distances at high speeds. It performs exceptionally well in soft dirt and other wet conditions. Some users even place them on the best 80/20 dual sport tires for under 60 dollars. For the price, this front tire does wonder, without any doubt.
It works so great in muds or wet conditions because of the tread pattern; that is what makes the tire deliver the grip. The on pavement service is just excellent; the tire makes the bike extremely stable. Not only that, cornering with this tire is extremely fun as well. Beginners might miss the feeling, but professionals will surely do.
Even though they offer a very low price, that doesn't make this tire sacrifice the quality. The way this one is constructed will go on for ages if you take little care of it. It is made of 4-ply, which makes this very durable and top of everything, this is certified by DOT. According to most users, you can cover 5000 miles, and you will not see any wear & tear on this tire. But few users have said that this tire starts wearing after extreme mileage, and we think that is very obvious. Dual sport bikes with lighter frames are OK with them.
Highlighted Features
Tubeless tires are extremely easy to mount.
The 4-ply construction makes it extremely durable and long-lasting.
It is approved by the Department of Transportation.
At such an affordable price, it is still of good quality.
Performs incredibly in wet conditions.
No products found.
4.
Shinko Dual Sport 700 Series Front/Rear Tire (4.60-18TT)
No products found.
We are
Presenting one of the best 60/40 dual-sport tires, the Shinko 700 dual sports rear tire. If you know dual-sport tires, then you might know what 60/40 is. For those who don't know, let me tell you this. 60/40 is a ratio that indicates how well a tire can be used on and off-road. On-road suitability is indicated by the first two digits and off-road suitability by the last two digits.
This Shinko 700-series tire is more suitable for street riding, but it also delivers good performance on off-roads. It comes with a top-quality 4-ply carcass, and the tread pattern of this tire makes it perform outstandingly in wet conditions. Off-road tires use this type of tread because the blocks are irregularly shaped and arranged in interlocking patterns.
The center of the tire has large tread blocks, and the shoulder has little small blocks. There are some half-depth reinforcements on the shoulder that connect the blocks; this makes cornering very stable. Moreover, this very tire is pretty quiet and extremely smooth in both wet and dry conditions. A professional rider can quickly go over rocky terrains, muddy roads, and dirt tracks with complete confidence with this tire.
According to the users, this tire lasts pretty well. Some didn't see any wear before they covered 600 miles; you might see very little wear after that. However, the best part of this tire is its price; it comes at a meager price
5. Kenda K760 Trakmaster II Rear Tire – 110/100-18/Blackwall
Kenda K760 Trakmaster II Rear Tire - 110/100-18/Blackwall
The Pros
It is constructed with a 6-ply carcass that makes the tire durable.
Unlike some dual sports tires, this one is pretty quiet.
Provides good stability off-road.
Delivers good traction, which makes riding on rocky and muddy areas easy.
Comes at a very low price.
The Cons
The tire will not last even after 1200 - 1500 miles.
We are presenting one of the top dual sport motorcycle tires for dirt. If you own an older motorcycle and often ride on dirt, then this Kenda K760 will be the best bet for you. And on top of that, this tire also comes at an extremely low price, which is also an advantage. We have seen many users praising this tire for its impeccable performance on dirt. As a result of the deep tread design, the tire performs extremely well on dirt because of its traction.
Due to the traction, the tire runs well on rocky and muddy areas as well. This is a 10/90 ratio dual sport tire, and that ultimately shows that this tire is designed for off-roading. And if we talk about the street, you should ride with these tires on the road. Just use on the street necessary to be covered to reach the off-road destination. If you use this tire much on the streets, the off-roading performance will decrease.
It is coming to the construction. It is constructed with a 6-ply carcass that makes the tire pretty durable. As long you use the tire for off-roading, the tire should serve you for at least a satisfactory time period. That being said, we have seen many users saying this tire doesn't last long after covering 1200 – 1500 miles. We think this tire is still a great deal.
6.
Kenda K270 Dual/Enduro Rear Motorcycle Bias Tire – 460-17 62C
Kenda K270 Dual/Enduro Rear Motorcycle Bias Tire - 460-17 62C
The Pros
Highly durable tire easily covers 6000 miles and beyond.
This tire is approved by DOT (Department of Transportation)
It offers incredible grip on off-roads, makes the bike very stable.
It is a tubeless tire and is very easy to mount.
Delivers good performance on/off-road.
It keeps the bike stable when riding on wet roads.
The Cons
It cannot take a heavy load; the user needs to keep the bike very lightweight.
The Kenda K270 tire is a dual-sport tire designed specifically for off-roading. You can use it on the street as well, so you don't have to rely on it just for off-roading. Choosing this particular model makes sense for a number of reasons. First of all, it is affordable. The price is under fifty bucks, but you should not judge it by that. It's a low-cost model, but the quality isn't compromised.
It is a 60/40 dual sports tire. Despite the fact that the off-road ratio is 40, the performance on the street and off-road are pretty similar. It has deep knob patterns that provide incredible grip for off-roading, and the rounded profile makes it suitable for street use as well.
Constructed with the 6-ply carcass. This tire also comes with a hard sidewall and something that strengthens the beads, which increases the tire's durability. Talking about durability, this tire effortlessly lasts over 6000 miles. After you have covered 6000 miles with this tire you might see little wear but that doesn't mean the end of the tire. You can still use the tire for a while, though it is wise to put them after they start wearing.
It is a certified tire by the Department of Transportation. Having that said, you wouldn't want to overload the bike when you are using this tire, especially on the streets.
7.
Continental TKC80 Front Tire (110/80B-19)
Continental TKC80 Front Tire (110/80B-19)
Well-tried multi-use tire for both street and dirt.40% on-road and 60% off-road.Compound and wide block tread pattern deliver optimal on and off-road...
Italian (Publication Language)
The Continental TKC80 is a 60/40 dual sport tire. Mainly this is a street riding tire but can be used on off roads as well. The performance on the off-road is pretty good. This tire comes with a wide block tread pattern and for good traction, this is an ideal shape. Hence you will get maximum traction on both loose and hard terrains. You should be going over rocky and wet terrains smoothly with this tire.
And if we talk about riding on the street, this tire will give you good stability on roads as well. Cornering with this tire is pretty satisfying however, still be very careful when cornering because it is not always about the tire, experience matters here a lot. Moving on! This tire is approved by DOT (department of transportation).
This tire weighs around 15-pounds, it is 150mm wide. This tubeless tire measures 17 inches and is easy to mount. It is a suitable tire for Kawasaki KLR600/650s to onwards. Continental is a big brand, if you have been into the dual-sport industry for any length of time you must have heard this name. Due to their top-notch reputation and product quality, their tires are a bit expensive.
If we come to durability, it offers service for a satisfying duration as long as you care for it. It should effortlessly cover 3000 – 4000 miles before it starts to wear off. One thing you will have to keep in mind is this tire cannot survive heated roads such as hot desserts, it will wear soon.
8. Dunlop D606 Rear Tire (120/90-18)
Dunlop D606 Rear Tire (120/90-18)
The Pros
This tire delivers incredible off-roading performance.
Deep tread patterns deliver needed traction during off-roading.
The tire is approved by DOT.
Performs great even when the road condition is wet.
The Cons
This tire isn't as durable as other most top-quality dual-sport tires.
Average performance.
In our second DUNLOP tire review, we present another DOT-approved tire that is suitable for use on pavement and off-road. Here is the DUNLOP D606 rear tire, which has been a top performer on off-roading trails. Do you agree? Not at all! Users agree! Despite its impeccable performance on and off-road, the majority of users are extremely happy with this tire.
But if we compare the off-road performance with on-road then definitely it is an off-road tire. In fact, this DUNLOP D606 is one of the best off-road tires. If you look at the tire you would see the knobby tread design which is the thing that makes the tire provide enough traction when off-roading. This tire is extremely tough and appears to be built to last forever. The tire tread pattern is deep, so it can easily roll over hardpack roads to soft surfaces.
In terms of durability, this tire falls behind a bit. Many users have covered more than 300 miles with this tire, but some have seen early wear, which is disappointing. It really depends on the terrain. Tire health can be severely reduced while off-roading no matter how good the tires you use are.
9. Michelin Commander II Cruiser Motorcycle Bias Tire
Michelin Commander II Cruiser Bias Tire-180/65-16 81H
The Pros
This very tire is extremely durable, will last over 4 years.
You will get the grip you need on road with this tire.
Cornering is pretty smooth.
Makes the motorcycle very stable.
It has a good weight taking capacity.
The Cons
The tire is a little expensive.
Avoid this one if you are looking for an off-roading tire, this is not one! The Michelin Commander II is a cruiser tire that delivers the best performance on the street. The price of this tire is a little high and still, it is one of the best-selling motorcycle tires on the market. In fact, this is one of the best motorcycle tires for cruisers.
Compared to other cruiser tires, this Michelin Commander II gives twice much millage. Comes with different tread patterns and the tire also got top-notch sidewall treatment. This tire has rubber compounds on it which gives incredible grip on the road. Doesn't matter whether the road is dry or wet, you will get the same good grip.
The manufacturer has used a technology called amplified density technology that enables the rider to handle the motorcycle better. We have seen some users are using this tire for over 4-years.
10. Pirelli Diablo Rosso III Front & Rear Motorcycle Tire Set
And here comes the last motorcycle tire reviews of the list, the Pirelli Diablo Rosso III front, and rear tire combo. We want to inform you that this is a set of front and rear tires. And they are very expensive but do not let the price intimidate you, it delivers great value for the price. Pirelli itself is a top-notch brand that has been serving the market with a high-quality tires for a very long.
This is a street riding tire, not for off-road at all. These tires come with WSBK derived profile that makes them highly responsive. Plus, they also feature a Bi-compound design along with a wide race compound strip, this is what provides the optimum grip and keeps the bike extremely stable even in wet conditions.
If you are concerned about durability, don't worry! These are very long-lasting tires, they will go on over 3 years even if you ride very often. However, we think the manufacturer could have lowered the price a bit, but it should not matter much as long as they offer top-notch performance. Forgot to tell on the thing, with the purchase you get two key chains of the Pirelli brand.
Things to Consider Before Buying the Best Dual Sport Tires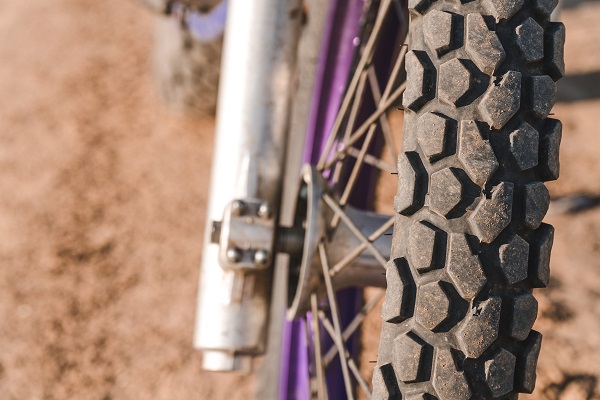 As we mentioned at the beginning, there are a bunch of factors that require your attention when you are about to purchase a dual-sport tire. And in this very section, we have explained each of those factors that you should consider before spending money on a dual-sport tire.
Dual Sport Tires Type
If you have been spending a lot of time with touring or off-roading motorbikes, then you must have noticed that there is always something like 90/10, 50/50 labeled on the tire. Different manufacturer labels these numbers in different areas of the tires so cannot say the exact position. Look thoroughly, the label should be seen
Ever wonder what are these? Well, these are the types! There are 7 most common types of dual-sport tires which serve a different riding purpose. We have demonstrated each of the types so that you will have clear ideas about which one you should choose.
90/10
This very type of tire is made for people who always ride on streets, offroading isn't an option since the manufacturer didn't design it for that. That being said, occasionally you can do little off-roading but definitely, you are not going to get the comfort of real off-road motor tires. Also, keep in mind, do think about rolling these tires on the serious off-road.
80/20 & 70/30
These are two types that are pretty similar to each other. And these are also designed mainly for street riding, but if you do light off-roading at weekends, this would be suitable for you. Don't use these tires for serious off-roading otherwise, you will not get the proper balance on the street.
60/40
Here comes on that is for both off-roading and on-roading. The best tires are made in a way that will provide you with go balance on both streets. Having that said, if you do much off-roading with a 60/40 tire, it will lose a little bit of precision and responsiveness on the highway, and I think that is completely fair. You should not roll tires on the road which are designed for off-road and vice versa. But we would still suggest using this tire on street and not using it much on off-roads.
50/50
As you might have already guessed, this tire type is suitable for both off-roading and on-roading but doesn't offer great performance on either. If you are looking for a type of tire that will serve you decently, then go for this very type. 50/50 isn't a popular tire type, we suggest don't go for this if you have a better option.
40/60
And now we are leaning towards the off-roading. Here comes a 40/60 tire that offers good performance on the trails, gives you improved stability even at a higher speed. Plus, you can use this on the streets as well but it performs well off-road.
30/70 & 20/80
If you often ride on the street but go extreme off-roading on weekends, then 30/70 and 20/80 tires are the best bet for you. In trails, this type does wonder, precision, responsiveness, and stability, which offers everything a professional rider needs. And on-street it delivers a decent performance as well.
10/90
And finally the best tire for off-roading. This is specially designed for trail riding and delivers superior performance. That being said, you can use this tire on the streets pretty nicely as well. Having that said, do not do long street trips with this type of tire since they are specially made for off-roading.
Tread Pattern
Tread plays a major role in sport tires, how well you will be able to handle, how better grip and stability the tire will offer widely depends on the tread. Different tires come with different tread patterns. And different manufacturer comes with different tread pattern as well. Some patterns deliver superior grip in wet conditions, some patterns give stability, and some improve the traction in rock or mud.
Depth of the Tread
Along with the tread pattern, tread depth also matters a lot. It is directly linked to safety and good handling especially when the tires are rolling off-road. When you are off-roading you need greater traction and stability. And the deeper the tread the better traction and grip you will get on mud, sand, or other soft surfaces. During riding, one common thing that happens is that small rocks get stuck to the tire gap, but when the tread is deeper, this wouldn't happen.
Roadworthiness
The meaning of dual sports tires is they can be rolled on both off and on roads. But a ratio shows how often you should use the tire on off-roads and on-roads. We have explained this thoroughly above in the tire types section. Do you see 50/50, 10/90, things like that? These are the ratios. However, when you are picking a tire make sure to choose according to your need.
For example, if you are off-road occasionally, make sure to pick a tire with a higher street riding ratio. And vice versa.
Price
We know not everyone comes with a big budget to invest in tires and that is why we have divided the price into two parts, reasonable and expensive. By reasonable price, we mean under 60$ tires. One should get decent dual sports to tire within this price range. There are a bunch of 4 and 6-ply tires that deliver a good grip and are also certified by DT (department of Transportation).
And by expensive we mean price that crosses 150$. Tires of such a price range will give you performance beyond your expectations. They offer excellent grip even in wet conditions. Plus, they last extremely long.
Getting The Dual Sport Tires
Trail riding means that you will occasionally fall off your motorbike. As a result, you'll need to lift your bike easily and get back to your riding. In such a case, the dual sport tires are those that are lightweight.
That said, dual sport tires are ideal for many situations. They work well for passing through narrow tracks, and over logging trails, among other rough terrains.
If your dual sport motorbike has a large engine, you might want to invest in heavier sport tires. Of course, you should also consider your height and weight to ensure that the tires you choose can accommodate your body.
Still, as you shop for high-quality dual sport tires, you should remember that all of these tires come with a trade off. This means that what you will gain in off-road traction will be lost in terms of tarmac performance.
Anyway, most manufacturers rate their sport tires for both off-road and road use. If the tires you buy are labeled 50/50, it means that they will work just as well on roads and off-road.
Buying The Dual Sport Tires
To this end, the best way to shop for dual sport tires is from the comfort of your own home or work desk. After a couple of clicks, and by reading guides such as this one, you should have a pretty good idea about what you need to buy for your bike.
Since this process might prove to be longer than you anticipated, we have done the research for you. In this guide, you will find 10 of the dual sports tires for 2023. Each of these tires was handpicked from a much broader list of similar options. We chose them based on durability, affordability, effectiveness, and size.
Benefits Of Choosing The Dual Sport Tires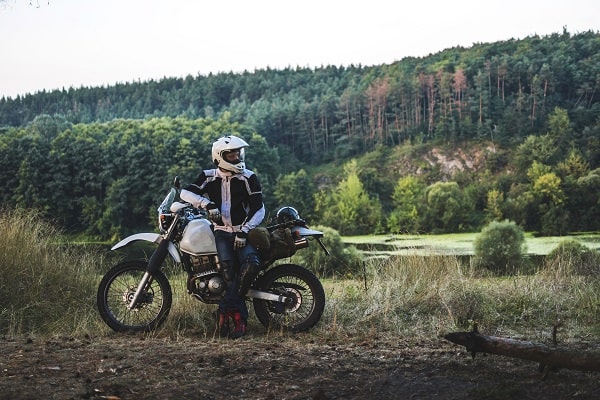 These tires are relatively affordable, especially in comparison to traditional motorcycle tires
You will benefit from their superior fuel efficiency
They work perfectly, both off-road and on highways
Those who drift from highways to off-road tracks are safe with them
You will have a great deal of fun riding on these dual sport tires
Irrespective of the brand, the dual sport tires you choose will prove ideal if you are a hybrid rider. This means that the tires will work well both on paved roads and on rough terrain.
One thing to note about these dual sport tires is that they vary in terms of application. This is based on the balance between off-road and on-road riding. That said, finding the right set will depend on how much of each you do.
FAQs (Frequently Asked Questions) about 10 best dual sport tires:
Q-1: What are dual sport tires?
Ans: There are some best tires that you can use both on-street and off-road. These types of products are known as dual-sport tires. Most of them are street legal and are allowed on roads. You can use them along with your car and also your motorcycle.
Nevertheless, some dual-sport tires have an exclusive design, which allows you to use them on rocky terrains and in the dirt.
Q-2: What are the best dual sport tires?
Ans: Our review of the best dual sport tires covers all the top-tier products out there on the market. Each of them offers various features, which are sure to serve your purposes.
However, if you are looking for the best items, we prefer the Dunlop American Elite Rear Tire and Michelin Commander Cruiser.
Q-3: How to balance dual-sport tires?
Ans: Like other standard tires, dual sport ones also require balancing. However, if you do not use a rim lock, then you will not need to balance your tires. On the contrary, if you run rim locks, then we strongly suggest you adjust your tires first.
You should use the proper tools and equipment to complete this task. Accurately going through the manual can help you a lot. However, if you are inexperienced, then we recommend you take the help of a professional mechanic.
Q-4: Which brand of dual sport tires lasts the longest?
Ans: Well, it depends on some factors. For instance, street sports tires last longer than off-road ones. However, if you use the former on rocky terrains, it will lose performance quickly.
Nevertheless, if you want something that lasts for a long time, then purchase Michelin Commander Cruiser as it offers ultra-longevity.
Final Verdict
So, there you have it – the best dual sport tires for 2023. Irrespective of the choice you make from the recommendations above, you can be sure that you will be getting a high-quality tire that will serve you well for many years to come.
However, from among all of these, we would recommend the Shinko 705 Series Dual Sport Front Tire – 90/90H-21 TL/Blackwall. It will serve you well, especially if you are looking for something with balanced performance both on- and off-road.
That said, irrespective of the tire you choose, be sure to keep it well maintained, check and correct the pressure levels, and replace the tubes on a regular basis (if you don't get the tubeless versions).
If you liked this article and would like to know more about other products, please leave us your feedback in the comment box below. Until next time, enjoy!